A connected arena experience
Project Overview
No longer will your mobile phone just be an object in your pocket while visiting Frequency Center. It will now be a gateway device to event parking, venue entry, food and beverage services, and an interactive device throughout the day. By bringing a truly interactive experience to Frequency Center, users can enjoy a more connected stadium experience.
​
Challenge
Creating an app that will enable users to engage with Frequency Center and provide a connected venue experience.​
Opportunity
Understanding what arena/stadium attendees want most out of a connected arena/stadium experience while also focusing on how we can turn their needs into a memorable experience that can increase venue efficiency and revenue for the business.
Discover
Market Research
Competitive Analysis
User Surveys
Understand User Pains
Define
Affinity Mapping
Personas
Define the Problem
Storyboarding
Journey Mapping
Information Architecture
User Flows
Ideate
Crazy 8's
Wireframes
Prototyping
Design System
Validate
Usability Testing
Iterated Wireframes
Hi-fi Wireframes
Prioritize Next Steps
My Contribution
This project was fun and interesting, I learned more about a product space that is currently in a transition to providing more digital experiences for those wanting to attend event venues. With a ton of questions in mind, I dove into preliminary market research to learn the product space trends and patterns.
​
I intricately evaluated competitors to gather inspiration and design solutions from top rated performers, as well as, apps that are not performing well in the space. Because I have this unexplainable urge for improving processes, I took time to understand what users were truly saying/feeling while sharing their attention between their mobile device and the event itself.
​
As I enter the design phase, I had a ton of ideas surrounding potential solutions for user problems. Before jumping into visualizing of the app, I ran through my research again to ensure nothing was overlooked and then began implementing design iterations.
​
I decided to showcase my work by transforming my work and findings into a slideshow about the process.
Project Duration: 5-Week Sprint
Does a connected arena/stadium experience increase the interaction between attendees and venue amenities?
Fans desire an app that makes the arena/stadium experience more enjoyable but does not distract them (and other fans) from the actual event.
63% of those interested in football who had never gone to a stadium, the attractiveness of a trip to the stadium would be increased by an arena/stadium app​.
According to study by Facit Group.
According to study by Facit Group.
User Pains
After creating a screener survey, conducting interviews, and creating an empathy map to better understand user needs, a primary user group was identified. Primary user group consists of rabid fans who don't like wasting time at events.
Attendees don't have the patience to stand in long lines.
Arena/stadium doesn't offer an efficient way to purchase and share tickets.
Attendees don't have a seamless arena/stadium experience.
Attendees do not have a way to plan event itinerary.
User Journey Map
Creating a user journey map helped me understand user expectations and experience using the app. I illustrated the journey for our primary user as they need an efficient way to plan event attendance.
User journey: plan event attendance in advance.
Information Architecture
Now I have an idea of what features to include in the app, based on user needs and pains. I organized the structure of the app to get a better understanding for how the app should function.
User Story/User Flow
After conducting user and market studies, user stories were developed into user flows that outlined the path users will take to ensure a smooth and efficient ticket payment experience.
Wireframing the Solution
I time blocked my sketching sessions so I did not focus too much on one idea. After sketching out several ideas, it was time to digitally polish those sketches to get a better idea for how the visual element relationships fit with the device screen.
Validating the Design
Usability Test #1
I conducted usability testing sessions with users to validate whether the lo-fidelity designs would meet their needs. During these sessions I wanted to understand how users interacted with the prototype and going through the flow of purchasing event tickets.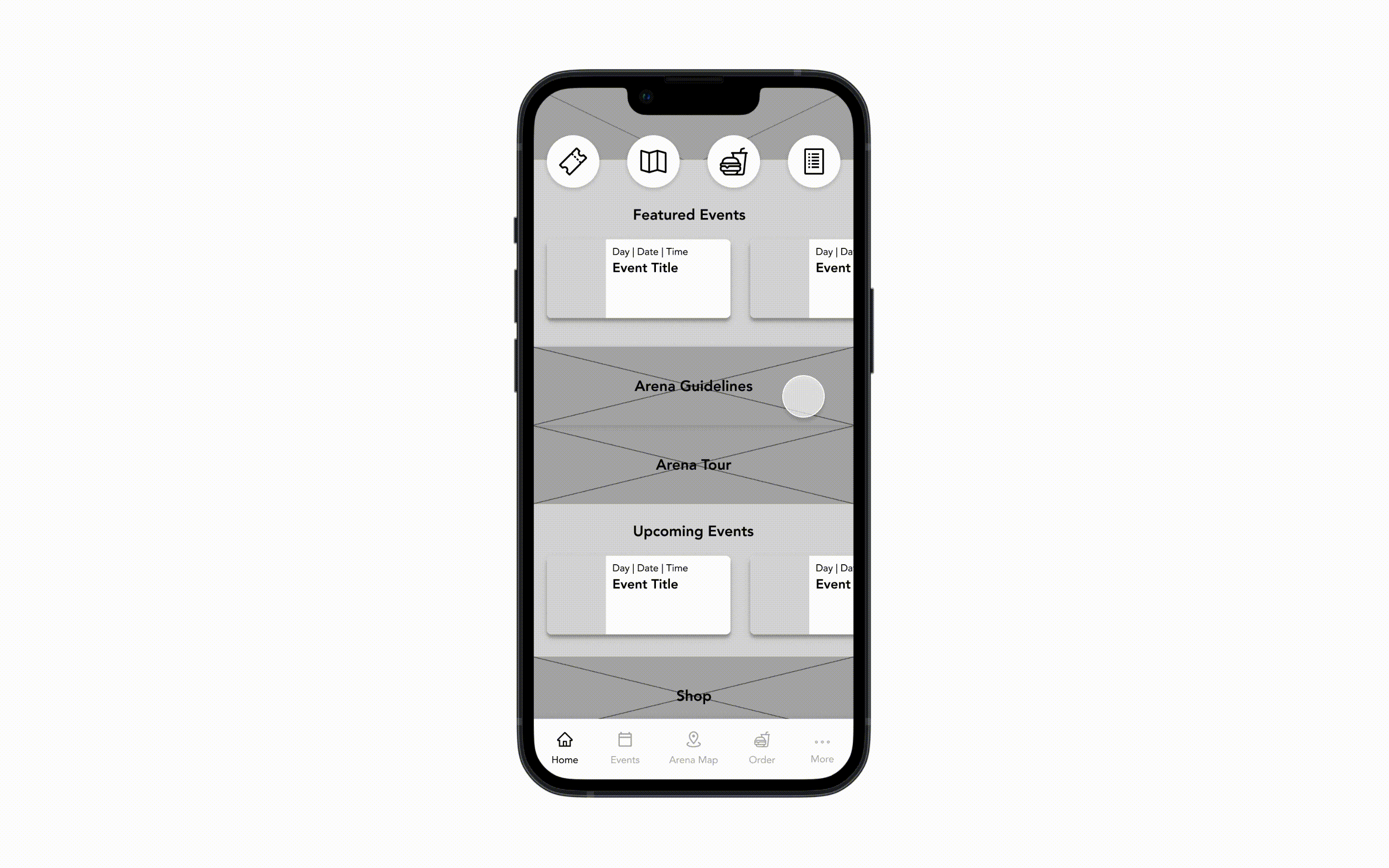 Users want a better process for choosing seating at an event.
Users want more information about the event line up.
Users want a more intuitive way to browse future events.
Usability Test #2
The second usability sessions helped validate refined designs. This session also tested the flow of purchasing event tickets.
Final Design
After gathering feedback from the second usability session, I now have the information I need to update the high fidelity designs. Try it out yourself!
Event seating map is not interactive.
Ticket pricing needs to be more visible while browsing.
Browsing events does not show event type.
The app makes users feel like Frequency Center really thinks about how to provide a connected experience.
​
One quote from peer feedback:
"The app is user friendly and put together extremely well! I would definitely use this app when looking for an event to attend, I love the calendar feature."
While designing the Frequency Center app, I learned that the beginning stages of the design process are vital to providing a solution that meets user needs. Usability studies and peer feedback influenced each iteration of the app's designs. I also learned that it's important to reflect on different stages of the design process.
Copyright © 2022 Anthony Jones.